Having a personalised phone case you love just got a whole lot easier!
Read all about my recent collab with CaseApp (sponsored).
Do you ever despair of finding a phone case you love?
Do you end up settling for whatever you can find at a decent price but it's not exactly what you want?
Have you ever wished you could design your own phone case?

If you answered yes to any of these questions then welcome to the club.
But I have found the solution and it's called CaseApp.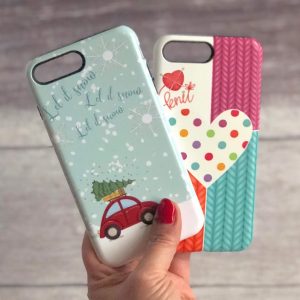 For me a phone case and a screen protector are essential. When I tell you I have broken almost every single phone I have ever had you will understand why. So I was delighted when the lovely people at CaseApp reached out to me and asked if I would like to do a collaboration with them and design a few phone cases. CaseApp gave me a voucher to buy what I wanted from their store and asked me to do a blog post about it and offer a discount voucher to my followers. All the opinions here are entirely my own.
Hands up if you are an iPhone fan?
Me too. I've had many iPhones over the last 10 years (I'm now on the iPhone 8+) but I've always struggled to find a case that I loved. Apart from one case that my kids designed and had custom made for me a few years back (which worked out quite expensive) I've always ended up settling for a plain, boring case. I wanted a phone case that really reflected me and made me smile when I looked at it. It also had to be tough enough to stand up to falling out of my pocket, or down the loo (we've all been there!), or getting sat on repeatedly because it was in my back pocket. Other makes of phone seemed to do much better on the accessories front than iPhones. More than once I have secretly coveted the pretty cases my friends had for their non-iPhone phones. Well NO MORE!!!!
Here's where the fun began!
Once I knew I would be designing my own personalised iPhone case my head was bursting with ideas and I ended up having to restrain myself. After narrowing it down to a Winter/Christmas themed case and also one that showed my love of all things wool related I got stuck in to designing. Armed with some graphics I sourced online I set to work in Photoshop and came up with two designs that I loved.
The first one I designed is a Winter/Christmas themed case. How cute is this! I am a Christmas fanatic (I watch Christmas movies all year round) and I can't wait to use this case. In fact, it has me feeling quite festive already and there are still two months to go! Uploading the image to CaseApp was simple and I was able to see what the final product would look like.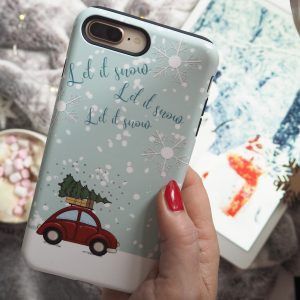 Seasonal decor for your phone!
I love decorating for the seasons and other special holidays and I have wanted to be able to switch out my phone case in the same way for ages. However, apart from the lack of inspiring cases out there I always worried that it would be far too expensive anyway. I was so wrong. The iPhone 8+ cases on www.caseapp.co.uk  are very reasonably priced at £22 and if you don't want to design your own there are loads of ready made designs for you to choose from. And it's not just for iPhones, they make cases and skins for other makes of phone as well as iPads and laptops.
For my second case I went for a wool theme as I'm obsessed with knitting and crochet and every spare space in the house has wool spilling out of it.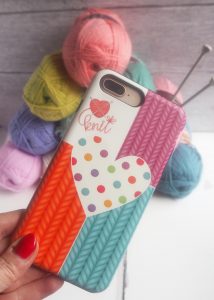 For this case I didn't design the whole image in Photoshop as I did for the Christmas one. I sourced the images online and uploaded them into one of CaseApp's ready made collages which was super simple to do and I love the result. There are lots of collage layouts to choose from and I went for one with a heart in the middle because I thought it was so sweet and it represents my love of all things woolly. The collages have also made me want to design another one with photos of my family on it because I know that would make me smile every day. I think CaseApp may have inadvertently created a monster because I suspect I will have a case for every occasion before too long. I'll happily admit I have actually written a list of designs I would like to have – Valentine's Day, St Paddy's Day, Easter, Birthday, Spring, Summer, Autumn, my three dogs, a beach scene (or two) and a few more Christmas ones!!
Since I drop my phone quite often (yes, I know I should be more careful) I went for the tough cases. They have a hard outer case and a silicone lining to protect all sides of your phone. My phone fits in easily and it is a good snug fit. I'm confident it won't pop out of the case as has happened to me with some other makes. The cases feel really robust and I think they will stand up well to my hectic life and the way I treat my phone.
I can honestly say I absolutely love both my personalised iPhone cases and will definitely be going back to www.caseapp.co.uk to design a personalised laptop skin to go in hubby's Christmas stocking (and perhaps one or two more cases for me!).
So if you would like to up your phone case game then click on the link to head on over to CaseApp to get started. It really couldn't be simpler.
You really have to go and have a peek, there are so many designs to choose from.
Who would like a DISCOUNT CODE to use when designing your own personalised phone case?
And as an extra little treat, if you use the code RECKLESSHEN20 you will get 20% off your order.
The code is valid until 10th November 2018.
So go ahead and unleash your inner designer and don't forget to tag me @the.days.of.a.recklesshen and @recklesshen on Instagram with a photo of your new case. I'd love to see your designs.
I'll also be running a giveaway on Instagram this weekend as the very generous Caseapp folks have kindly offered me a prize to give away.
Check my @the.days.of.a.recklesshen Instagram page at the weekend to be in with a chance to win.
Happy designing x