Make this pretty wintery wall hanging to add a touch of seasonal decor to your home.
Do you decorate for the seasons?
This wintery wall hanging is the perfect way to add a touch of winter this Christmas time.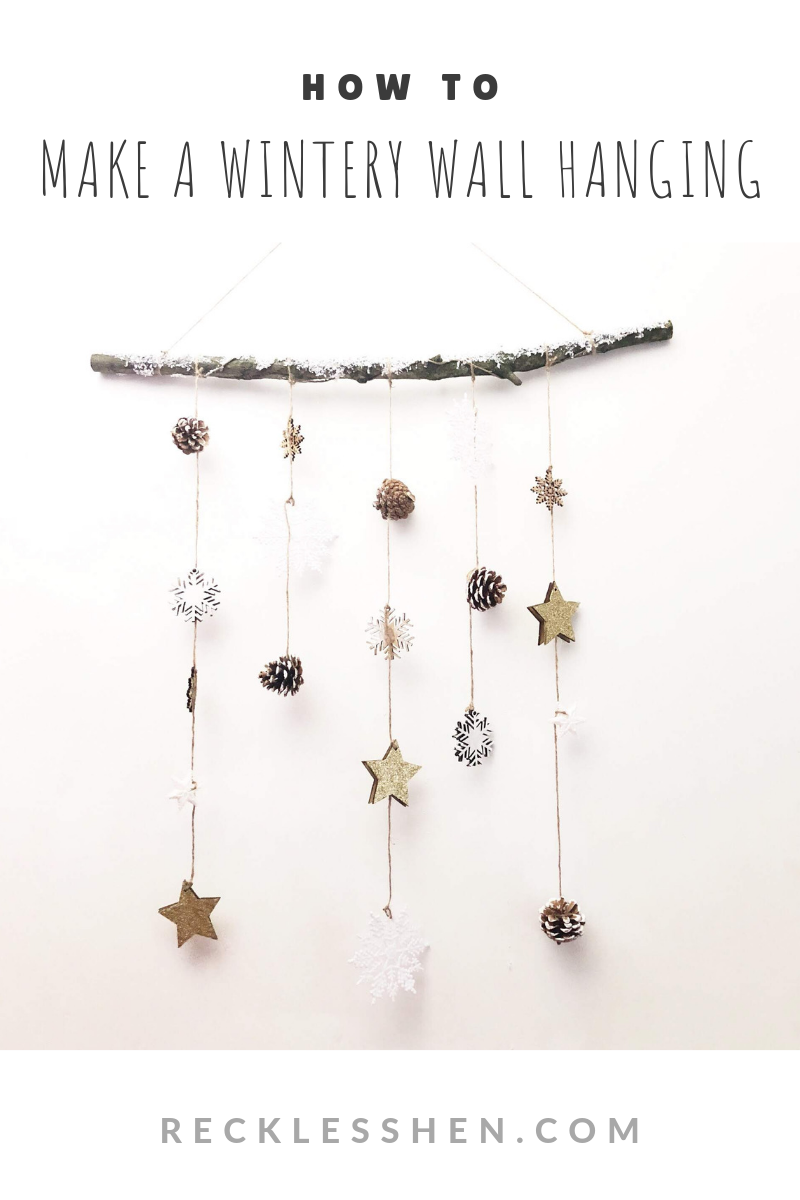 Keep the kids occupied for a while with this super simple craft, or just do it yourself for a little crafty interlude in your day.
You will need:
A branch
PVA glue
Fake snow
Twine
Pine cones (snow covered if possible)
Wooden stars
Wooden snowflakes
White acrylic snowflakes
White paint
Gold glitter
Let's get started:
First create your snow covered branch. Spread glue all over the top of the branch and then sprinkle fake snow over the top. Leave to dry. Once dry you can see if there are any places you would like to add more snow. If there are then just apply more glue and sprinkle more snow until you are happy with how your branch looks.
While the glue is drying, prepare your snowflakes, pinecones and stars. (You could use any bits & bobs you like, it doesn't have to be just a winter theme). I painted some of my snowflakes white and put gold glitter on my stars.
Once your branch has dried lay it on a flat surface, work out what lengths you want your drops to be and cut the twine accordingly. I always leave an inch or two extra to allow for a bit of flexibility. Tie one end of each piece of twine to the branch, spacing them out evenly.
Now the fun part:
Lay your stars, pine cones and snowflakes out the way you want them to hang from your branch. Try different arrangements until you get the look you want. Once you are happy with the layout, tie all your bits & bobs on to the twine, spacing them out as you go. Trim any extra twine once you have completed each drop.
Ta Dah! One completed Wintery Wall hanging.
I've also done one that has Christmas baubles hanging from each drop and one of my Instagram followers did a lovely one with crocheted baubles suspended from the branch. The possibilities are endless.
I think I will do one for each season now, it really adds a touch of something special to the room. Plus you get the satisfaction of knowing it is all hand made.
Why not try making your own cards too? Check out my card tutorial here.
I'd love to see your creations, so tag me on Instagram @recklesshen and use the hashtag #acraftychristmaswithrecklesshen so I can see all your makes.
Happy Crafting!